Orthodyne: your expert in gas chromatography !
Instruments, detectors and analytical engineering
What started as a family business manufacturing wireless radio sets in the 1920s, Orthodyne has evolved into a whole new field of technology and innovation .
For almost 30 years, the company was involved in the wireless business. This dwindled in the early 1950s as transistor radios imported from America brought the curtain down on our activities.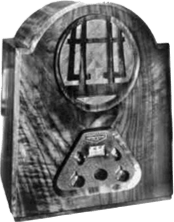 Consequently, Orthodyne began producing appliances to measure impurities in argon used for welding. These chromatographs were fitted with a detector using high frequency discharges to serve in steel plants in Liege (Belgium).
Afterwards, the company's customer base widened to Germany and France. The structure and product range grew to include new high purity detectors for industrial and laboratory applications. Orthodyne played a 'pioneering role' in this field. Following this up by further broadening its product range and developing in-house analytical softwares.
Total analytical solutions
Today, from its headquarters in Alleur and with a workforce of about 55 people, Orthodyne exports around 95% of production. This can be achieved via national sales and distributors on every continent. In addition, Orthodyne works in cooperation with all major producers and suppliers of industrial gas throughout the world.
The company is now immersed in instruments, detectors and total analytical engineering solutions. We sell more than just products, our mission is to supply solutions. To achieve this, we develop, produce and/or distribute a large range of analytical products and services.
These services include  online analysers, gas chromatographs, analytical engineering, data acquisition systems, maintenance services, and validation. Orthodyne's special asset is the 'modular concept'. The company uses a modular system to design and assemble analysers to meet the most demanding customer requirements.
Orthodyne also specialises in analytical engineering by cooperating with other producers supplying a complementary range. We have just one aim in mind: providing the customer with a total solution. The company can supply IT solutions through in-house development of analysis software, training, maintenance, and permanent support from its after sales department.
Purity
Orthodyne's appliances 
are always built to take into account the gases to analysed, the impurities to be detected, and the required detection threshold (%, ppm or ppb).
Therefore Orthodyne's equipment can be found mainly with the gas producers, in air separation and cylinder filling plants, as well as in laboratories. The fields of application are thus very broad, ranging from pharmaceuticals and medical and food to space and the nuclear sectors, as well as electronics (semiconductors) and the steel industry among others.
Some Orthodyne products include systems for medical applications, with the development of a complete range of specific analysers that comply with the European Pharmacopoeia standards. Systems for the food sector where quality control and regulation is just as strict and the company has developed a device complying with the standards of EIGA.
With our development department, we always pursue the continuous improvement of existing analysers and analysis systems.  Now we are working on smart technologies for your safety, cost and efficiency.
Orthodyne's takeover by SDL
In 2016, Beijing SDL Technology Co., Ltd, took over Orthodyne. This event comes up at a perfect time, enabling Orthodyne to focus and invest in the development of new products and applications. The objective is to strengthen our expert position in the gas chromatography sector.
The objective shared by SDL and Orthodyne is to become a Leading Group in the analysis sector. Following this acquisition, Orthodyne will continue working independently and stay focus on its core job, the industrial gas.
Finally, we truly think that this important event will provide added-value to our customers by offering a full range of analytical instruments, solutions and services.