General
The TCD Gas Chromatograph is not as sensitive as other detectors but it is non-specific and non-destructive. A TCD detector consists of an electrically-heated wire or thermistor (tungstenrhenium wire). The temperature of the sensing element depends on the thermal conductivity of the gas flowing around it.
Principle
Changes in thermal conductivity, such as when organic molecules displace some of the carrier gas, cause a temperature rise in the element which is sensed as a change in resistance.
Response in universal and proportional to concentration
Best gases
for TCD Gas Chromatograph :
H2 or He
. Because of highest thermal conductivity (0.170 and 0.141 J/(K.m.s), respectively, to be compared with N2 0.024 J/(K.m.s) for N2).
For Helium and Hydrogen the temperature conductivity lowers when solute is eluted. The sensitivity is inversely proportional to flow rate: the detector is more sensitive at lower flow rates.
Detection limit: < 5 ppm
To increase sensitivity, the temperature of the block should be maintained at lowest temperature that allows all the solutes remain gaseous.
Some Global References
| Company | Type of analyser | Analyser | Measurement |
| --- | --- | --- | --- |
| Air Products (Scotland) | Mixture | TCD | O2 (ppm % ), CO2 (%) |
| Air Products (Poland) | Mixture | TCD | O2 (ppm %), CO2 (%), Ar (%), H2O (%) |
| Air Liquide (France) | Mixture | TCD | O2 (%), N2 (%), He (%), CO2 (%), Balance Ar (%) |
| Air Liquide (Denmark) | / | TCD | N2 (%) ASSAY |
Type of configurations
DID Gas Chromatograph - 500
Process Line
This new line 500 has been designed for stand alone operation. Easy configuration and quick start-up make this new system ideal for process gas analysis.
In addition to its user-friendly interface (touch screen display), the new line 500 has its own chromatographic software that allows the concentration of each impurity to be displayed directly. Moreover, the new line 500 can be remotely controlled through Ethernet or Internet.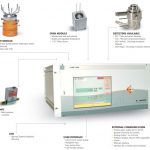 Technical specifications
Accuracy
Depend of the range used
Drift
1 % over 24 hours
Temperature drift
1 % per degree
Operating temperature
± 20°C without wide variations of temperature

Sampling gas

N2, H2, O2, Ar, He, Air, CH4 , CO, CO2

Sample gas connection
1/8'' Swagelok SS
Sample flow rate
Approximately 3 to 5 l/h
Sample pressure
< 100 mBar

Carrier gas

All gases, except corrosives ones

Carrier gas connection
1/8'' Swagelok SS
Carrier gas pressure
7 bar
Carrier gas fl ow rate
4 l/h
Recommended quality
minimum 5.5
Power supply
220 Vac, 50-60 Hz
Power consumption
500 VA
4-20 mA output
Eight configurable outputs
depending on the application
RJ-45 connection
Computerised system maintenance
Output relays
(SPST 2 amperes / 250 Vac)
1 Analyser Failure Alarm contact
1 Alarm High contact
1 Alarm High High contact
Features
5 ppm resolution guaranteed
Adjustable alarm and oven settings
Possibility of auto-calibration programming
Applications
Discover which analyser(s) you need for your analytical requests. Check the application here !
Measurement capabilities
The range can be adjusted between 1ppm and 100% following your request.
Find a distributor
Check your closest distributor with our new tool. Click on distributors and it will open a new page.